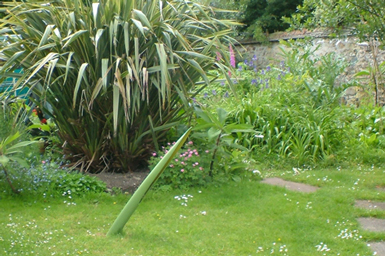 2010 Open Studios group exhibition with Jane Beecroft, Cornwall.
A pre recorded musical sound composition by the artist plays out from the stem of an abstract plant sculpture with a buried section emanating sound through the lawn. Visually it's camouflaged, leaving the audience to the musical experience.
The composition is emulating a variety of external sounds heard from Jane Beecroft's garden, church organ sounds for the nearby Falmouth Docks, high pitch melodies for the birds, distorted violins for the insects, as well as clashes of electronic percussion complementing the colourful flowers. The composition continually alternates through different major and minor keys in order to further the sense of this abundance and variety. It is 20 minutes long with a 2 minute silence before looping, allowing time for the audience to take in the atmosphere of the garden again.
Recording taken from garden